I can't believe how fast this month is going to fly by! I am too excited about a few things right now and I am not sure I will sleep AT ALL tonight. I will try not to gloat too much.
Today we went to Home Depot get an estimate on oak kitchen cabinets and a basic counter top. We got some really cool ideas and a decent estimate. I love the design we created today and got a print out of it too. Of course, we will be doing the tear out and installation work ourselves. But having cabinets and a counter top built for our kitchen will make it so much easier. And I will have lots of drawers. I will post photos of my current kitchen cabinets for a nice before and after effect. The cabinets will take 4 to 5 weeks to build. We will go to a few other places, including a wholesaler, to get estimates before we decide. It is truly exciting because we have been wanting this for a long time b/c our current kitchen is not very user friendly. I have two drawers and one is a junk drawer and I have a tiny kitchen counter area. We will b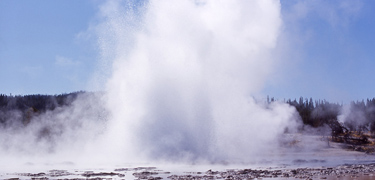 e selling our house at some point in the next 2 to 3 years and this will help a lot.
We are 80% sure we will be buying a used 2002 Suburban from a friend this month. It's going to be our travel mobile for awhile. We have registered for the May
unschooling
conference, Life is Good in Vancouver Washington and reserved our hotel room for the duration of the conference. On the way we will be seeing family in Colorado and then going to Yellowstone for a few days. I'm still researching the park and very excited. I feel like a geyser that will explode, if May doesn't get here soon. On the way home from the conference we hope to see family in Washington and then head to Montana to visit friends.
But this month is going to be almost as much fun! I can just tell. All is going well here right now. Cliff has his first weekend with local Air National Guard reserves this weekend. The boys and I will be keeping the
home fires
burning and attending a party. It should be a beautiful weekend. We are having record breaking temps here. O.k., I made that part up. It is going to be in the 40s & low50s though and I will take that! It is better than what it has been.
I borrowed the geyser photo:
http://www.nps.gov/yell/
. Camden was watching me and said,
that's a geyser!
Funny the things a 4 year-old picks up on! I can't say I knew what a geyser was at his age. Today our triops hatched. They are like Sea Monkeys. It was exciting to see them swimming around.
Camden needs the computer. He has been waiting patiently.
Love and joy,
Heather xoxox