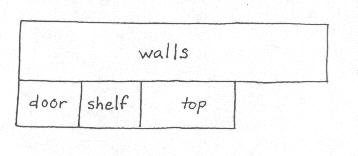 With any luck our home made rat cage should look something like this over the weekend. A sweet friend gave us her
kiddy
pool, and I went to buy some more wire and supplies yesterday. Cliff needs about 5' more wire, I hope he gets today so we can start this project tomorrow.
A friend of ours found the rat cage plans here and helped me locate this awesome site:
http://www.ratfanclub.org/cagepln2.html
They have lots of other cage ideas there.
Goldie
ratgirl
is a
mischievous
little thing. She will most likely need to stay in her new cage most of the time. She get's really bored and does not like to be held. She prefers hoarding and chewing holes to her new homes. Brownie loves to be held and to rest a lot. Brownie is really old though. And Goldie is not old.
It is windy here today and rained almost all day yesterday. All the leaves are about down. It is that time of year when indoor projects are welcomed!
Love to all and Happy Halloween!
~Heather
xoxox